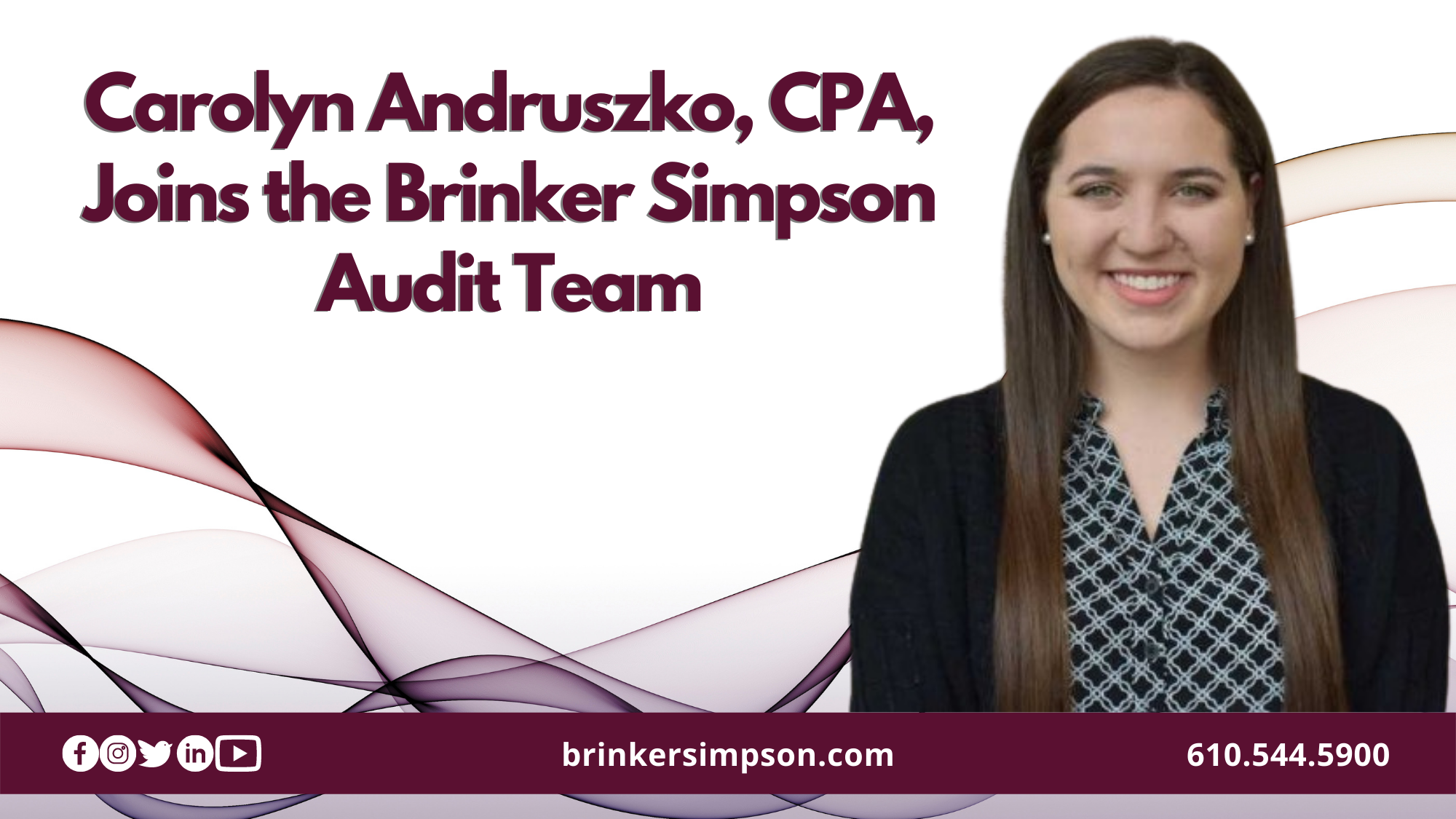 Brinker Simpson & Company, LLC, Delaware County's largest locally owned, full-service public accounting firm, is pleased to announce the addition of Carolyn Andruszko, CPA, to our professional team.
Carolyn joins the firm as an accounting associate working primarily in the audit department. She will be responsible for executing detailed audit procedures, including reviewing transactions, documents, and records and conducting audit tests to support professional opinions about the fair representation of client financial statements. In this role, Carolyn will help to ensure that the firm is compliant with current legislation and best practices.
Before joining, Carolyn worked as an audit associate with a local firm in the Philadelphia region. In this role, she worked on several engagement teams within various client industries such as manufacturing, not-for-profit, and healthcare. Carolyn brings valuable professional skills to Brinker Simpson, including strong teamwork, communication, and analytical skills.
"New hires always bring excitement to the firm," said Managing Partner Bob Simpson, CPA, MST. "Expanding our staff with talented individuals like Carolyn will further strengthen our value to every client and project we work on. We are confident Carolyn's skill set and enthusiasm will be great assets to the growth of our firm."
Carolyn is a graduate of Loyola University Maryland, Sellinger School of Business, where she earned a Bachelor of Business Administration in Accounting and a Minor in Information Systems. Carolyn graduated Magna Cum Laude in May 2020. She was also a Sellinger Dean's List Recipient Fall 2017 through Spring 2020. Carolyn is a native of Drexel Hill, Delaware County, and a Cardinal O'Hara High School graduate. Carolyn prides herself on her skillful approach and technical proficiency.
###
Brinker Simpson and Company, LLC, is a regional certified public accounting firm headquartered in Springfield, Delaware County. We offer a wide range of services, including accounting and tax, auditing, consulting, business valuations, fraud and forensic investigations, state tax nexus consultations, outsourcing services, and litigation support.
A career in Audit at Brinker Simpson offers insights into the inner workings of companies and a broad business perspective that can open up countless opportunities for professional and personal growth. Our Audit process does more than assess financial information. It's designed to focus on the key areas of risk so that our clients can focus on managing their core business. Brinker Simpson combines a multi-disciplinary approach with deep, practical industry knowledge to help clients meet challenges and respond to business opportunities.