Spirit of giving thrives year-round at Brinker Simpson and Company
By Peg DeGrassa
pdegrassa@21st-centurymedia.com
Editor of Town Talk, News & Press of Delaware County

SPRINGFIELD » With 2020 being such a challenging year, some local companies have made a concentrated effort to help those in the community who are struggling during the pandemic. Brinker Simpson and Company Certified Public Accountants and Advisors in Springfield is one of them.
The employees at the 31-year-old CPA firm have reached out with a helping hand to many in the community on a regular basis.

"2020 has been such a hard time for so many people, which is why it's important for those businesses that have been able to remain open to pay it forward," explained Kellie Harris, Brinker Simpson Client Services.

"We've been able to maintain our level of community outreach, even with several staff members working from home during the pandemic." Helping the community is not new to the staff at Brinker Simpson and Company.

Part of the firm's culture is giving back. Each Friday, staff members pay $5 to dress casually in the office. At end of month, the money collected from the "Dress Down Fridays" is donated to a non-profit or other type of charity in the Philadelphia area. Brinker Simpson employees choose where the money will go. During the six years that this program has been in existence, the Delaware County company has raised close to $30,000 and has contributed to about 50 community organizations. This is money coming directly from employees.

Brinker Simpson and Company employees also conduct food drives, adopt families in need, serve meals at CityTeam's Hope Café in Chester and more.

Just last week, the company delivered food and personal hygiene products to seven different food pantries in Delaware County. The generous distribution was a result of a company food drive during the entire month of November. Going forward,, the company will rename this food drive as the "Frank Baldino Annual Food Drive" in honor of one of the firm's partners who passed away earlier this month.

This year, the company divided its forty employees into six teams and had a friendly competition of who could collect the most for the drive. Some team members reached out to their friends, relatives and gyms to get extra contributions. Employees and relatives were recruited to pack 14 SUVs, which, according to employees, were bursting at the seams with the multitude of donations.

Recipients of Brinker Simpson employees' goodwill last week included Upper Darby Food Bank, CityTeam in Chester, Media Food Bank, St. Vincent DePaul Society's Delaware County Distribution Site, Loaves and Fishes in Prospect Park, St. Mark's Food Pantry in Broomall and Mt. Zion Church in Sharon Hill.

The season of giving at Brinker Simpson and Company doesn't just come for a few weeks during the holidays. Instead, Brinker Simpson employees' spirit of generosity lasts throughout the year.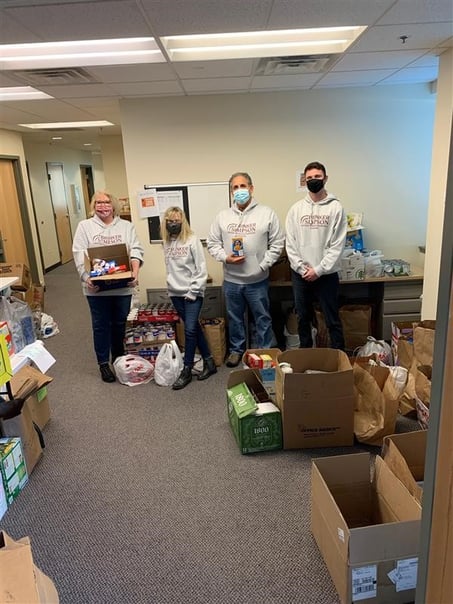 Generous team members at Brinker Simpson & Co., left to right, Kellie McShane-Harris, Lori Meehan, Bob Simpson and Jeff Hammons, collected food during Brinker Simpson's November Food Drive. They are pictured getting ready to deliver the donations to Upper Darby Food Bank and Media Food Bank last week.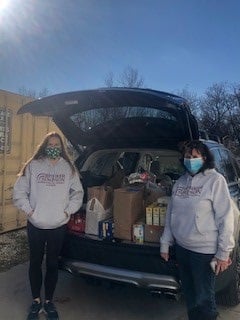 Brinker Simpson and Co. employees Donna Stilwell and Shannon Delaney delivered food last week to CityTeam in Chester.