Brinker Simpson has teamed up with TaxCaddy.
Tax season can be complicated, but Brinker Simpson is committed to making the experience more straightforward for our individual clients. In an ongoing effort to streamline the tax process, we're excited to introduce clients to TaxCaddy, a software solution that simplifies time, reduces your tax season stress, and helps keep you safe, especially during the challenging times related to COVID-19.
Convenience and security are our top priorities. This platform allows us to seamlessly communicate, upload, and review documents with our clients. Simplifying the tax data-gathering process is an innovation that provides convenience for our clients while allowing our professionals to focus on tax planning strategies.
With TaxCaddy, paper organizers will be a thing of the past, and you'll make fewer trips to the office. As always, we are still available to you in person and virtually. Feel free to call, email, or stop by to talk to your tax advisor whenever you have questions.



Click Here to Download TaxCaddy for iPhone

Click Here to Download TaxCaddy for Android
TAXCADDY TUTORIALS
THE BENEFITS OF TAXCADDY
FOR PERSONAL TAX RETURNS ONLY
Mobile App: You can submit tax documents by taking pictures with the TaxCaddy mobile app, uploading files, or manually entering information.
Ease of Use: For greater convenience, you can also authorize TaxCaddy to retrieve documents automatically from your financial institutions, giving us access to them immediately. You can learn more about Smart Links by clicking here.
Real-Time Updates: Your TaxCaddy account will reflect your tax return progress with us. You will only need to provide the documents and tax information that are pending.
Contact with Brinker Simpson: You will have access to direct contact with your tax professional through TaxCaddy's messaging features.
Tech Support: Technical support and troubleshooting are available by email and chat in the TaxCaddy Help Center.
GET STARTED TODAY
You will receive an email from TaxCaddy inviting you to create your TaxCaddy account. The email invitation will come from NoReply@taxcaddy.com and will contain instructions with three easy steps to get started. See below for further instructions and tips.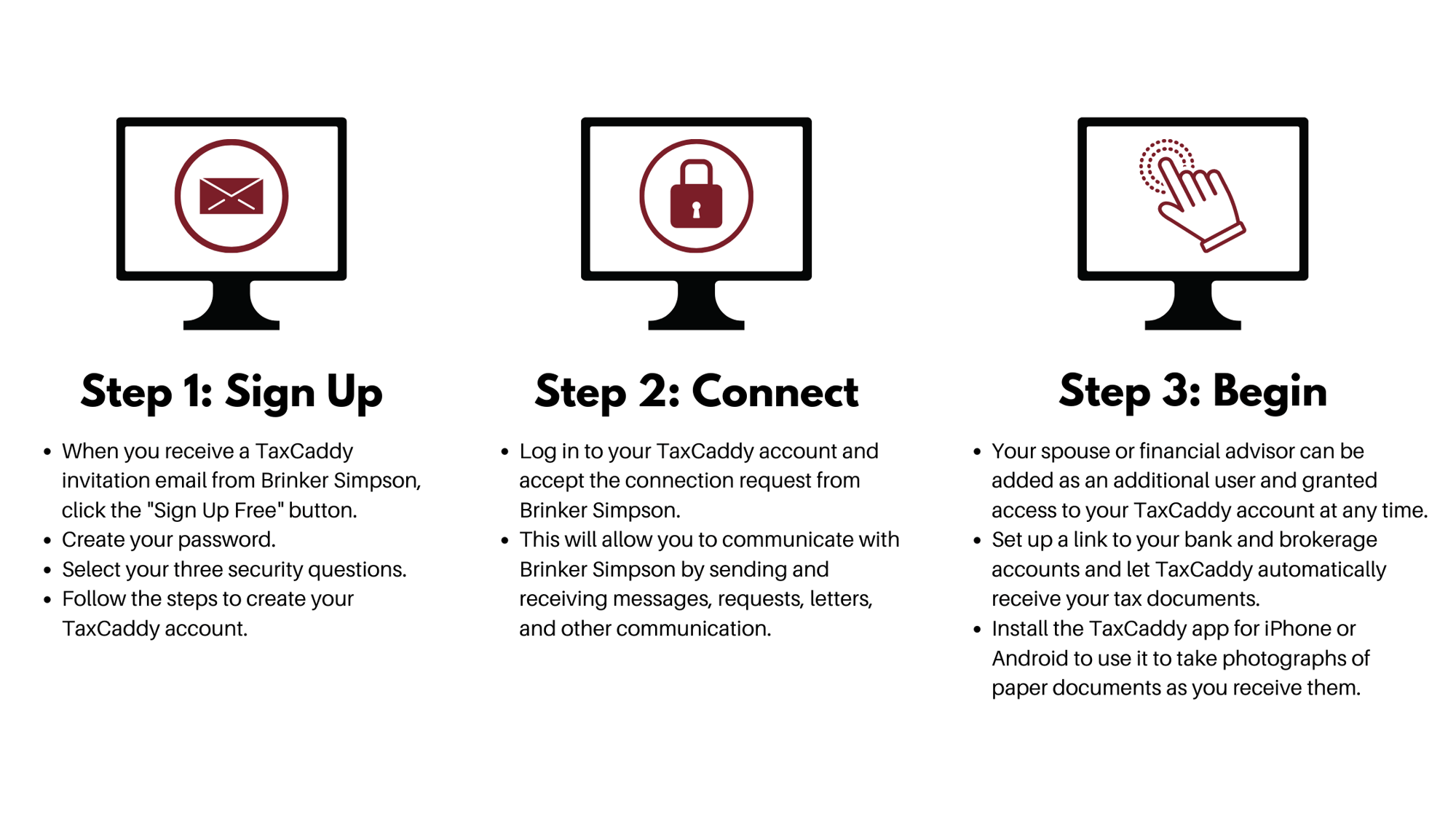 TAXCADDY SUPPORT
Many resources, such as visual tutorials and support staff, are provided at TaxCaddy's Help Center.
If you need additional help, you can:
Support hours are from 10 a.m. to 8 p.m. EST, Monday through Friday, excluding holidays. The typical turnaround time for support tickets is 24 hours. Note: TaxCaddy is unable to provide phone support.