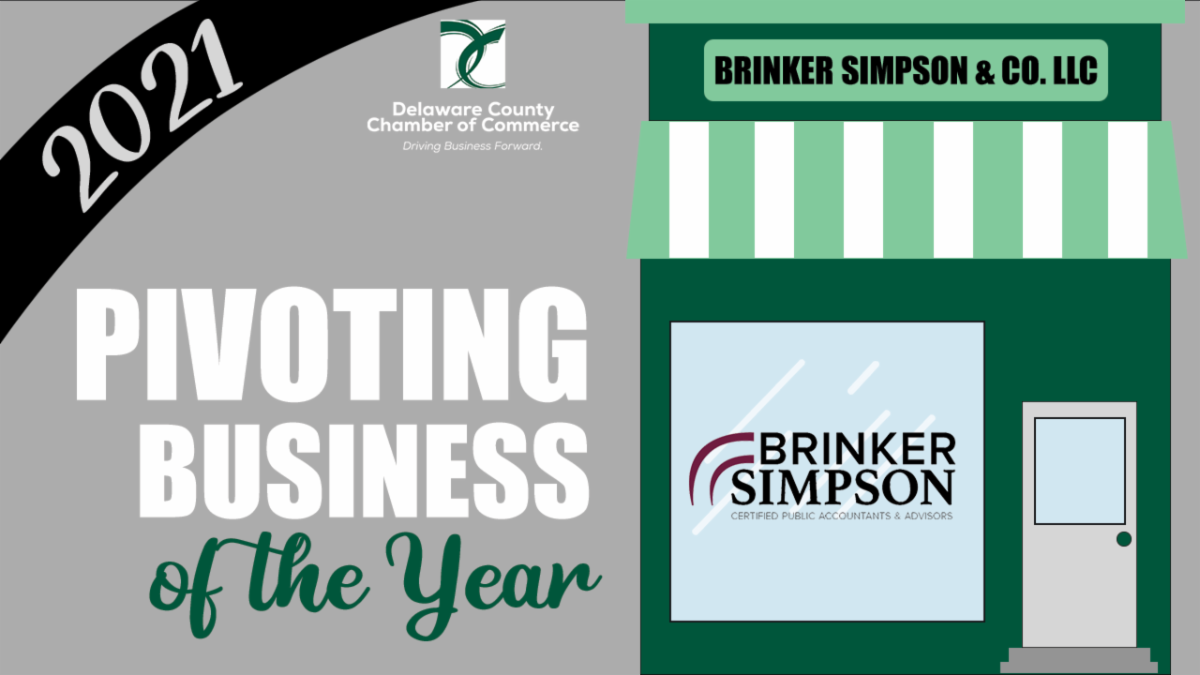 Brinker Simpson and Company, a regional certified public accounting firm headquartered in suburban Philadelphia, has been named the 2021 Pivoting Business of the Year by the Delaware County Chamber of Commerce. Each year the Chamber holds a Small Business Awards ceremony to celebrate and honor the businesses and people who make considerable contributions to keeping small business thriving in our communities.In many ways, we're nearly 'immune' to the topic of COVID-19 now, but back in March, when the world turned upside down, it was a matter of survival.

Being the financial first responders, Brinker Simpson played a critical role in helping clients and non-clients manage unprecedented disruption and economic slowdown. We transformed operations, established brinkersimpsoncares.com, and used this unique point in time to pivot our focus to help small businesses survive.

Brinker Simpson faced these challenges head-on. True to form, our leadership team adjusted with poise. While keeping staff employed, Brinker Simpson quickly adopted a work from home/hybrid office approach. Virtual meetings became the new normal. We advanced our desire to serve the community with countless webinars to keep small business owners informed about the rapidly changing tax law and financial support options.

Amid the COVID chaos, Brinker Simpson also delivered food and personal hygiene products to seven different food pantries in Delaware County. The generous distribution was a result of a company food drive in November. This year, the company divided its forty employees into six teams and had a friendly competition. Employees and relatives were recruited to pack 14 SUVs, which, according to employees, were bursting at the seams with donations. Going forward, the company will rename this food drive as the "Frank Baldino Annual Food Drive" in honor of one of the firm's partners who passed away in December.

Above all else, COVID-19 has taught us perspective and resilience. Put them together, and we have the strength to lean into adversity and see opportunities where some might only see problems. In the hardest of times, such as 2020, people will remember how you responded and behaved.

Thank you to the Delaware County Chamber of Commerce for this meaningful recognition. We hope to create a lasting, positive impression by supporting clients and each other while embracing community service to make a difference and impact generations to come.
To learn more about this year's award ceremony, visit https://bit.ly/3cujjN6