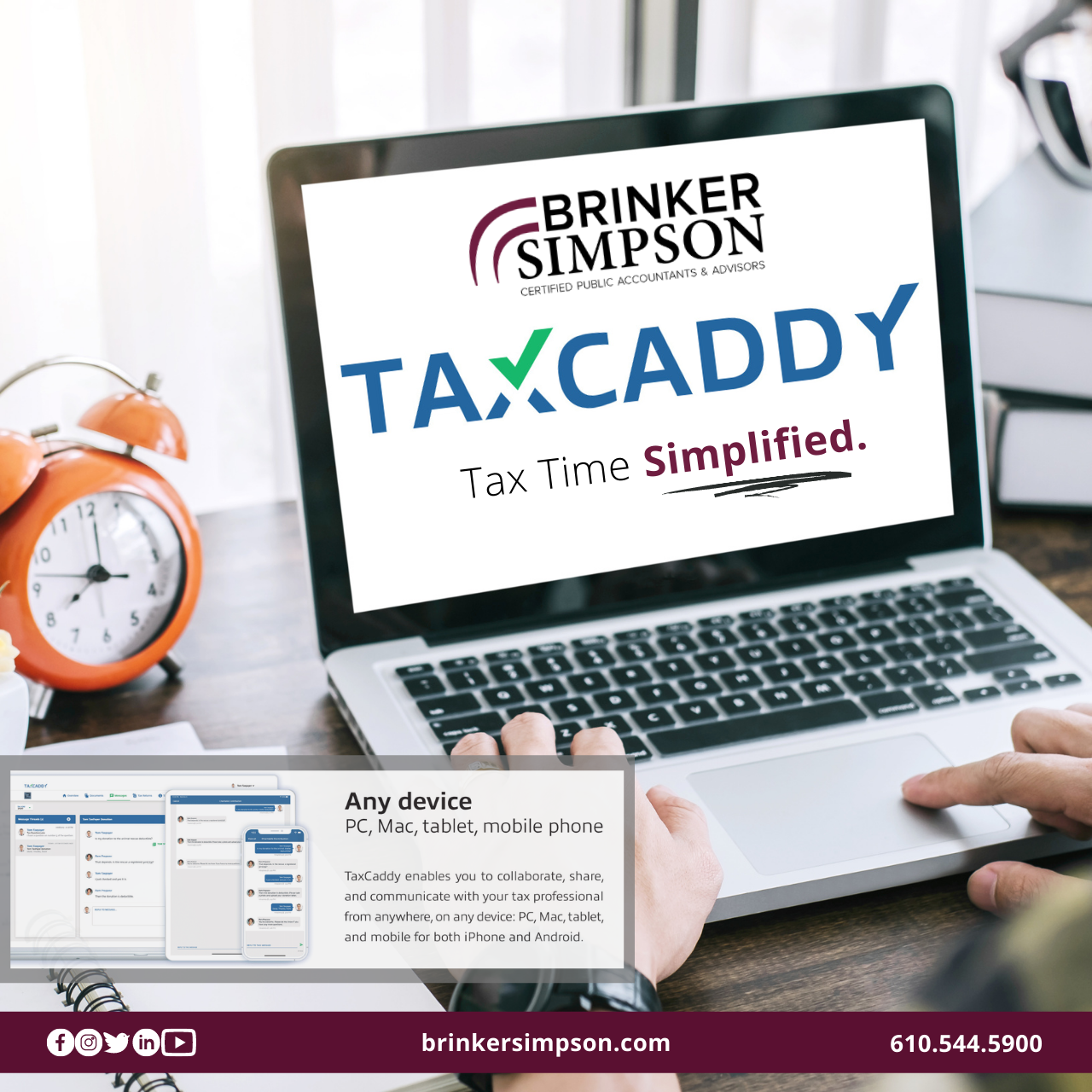 Brinker Simpson is on a mission to make the tax season experience easier and more secure for our individual clients.
Beginning January 2022, Brinker Simpson and Company is teaming up with Tax Caddy.
TaxCaddy makes it easier than ever to gather your tax documents and deliver them to us, communicate with us, answer your tax questionnaire electronically, and sign documents like the e-file authorization.
Convenience and security are our top priorities. With TaxCaddy you can electronically receive your tax organizer, manage and upload your tax documents, communicate with your tax advisor, and sign the e-file authorization form all from the convenience of your computer, smartphone, or tablet.
We're excited about this powerful, free solution and we think you will be, too. Learn more at brinkersimpson.com/taxcaddy.
Benefits of Using TaxCaddy
Mobile App: You can submit tax documents by taking pictures with the TaxCaddy mobile app, uploading files, or manually entering information.
Ease of Use: For greater convenience, you will also have the option of authorizing TaxCaddy to retrieve documents automatically from your financial institutions which will give us access to them immediately. You can learn more about Smart Links here.
Real-Time Updates: Your TaxCaddy account will reflect your tax return progress with us. You will only need to provide the documents and tax information that are pending.
Contact with Brinker Simpson: You will have access to direct contact with your tax professional through TaxCaddy's messaging features.
Tech Support: Technical support and troubleshooting are available by email and chat in the TaxCaddy Help Center.