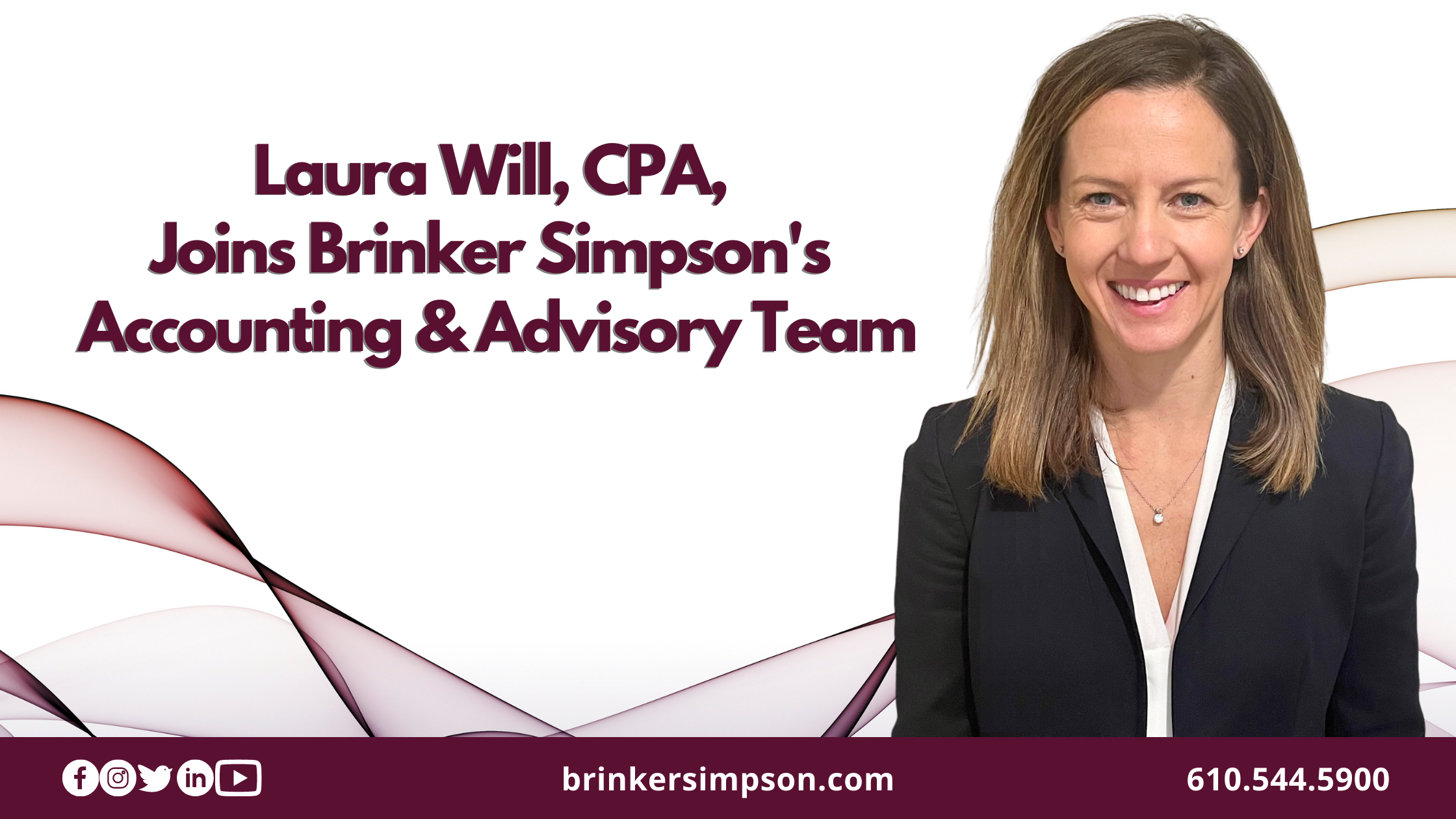 Brinker Simpson & Company, LLC, Delaware County's largest locally owned, full-service public accounting firm, is pleased to announce the addition of Laura Will, CPA, to our professional team.
Laura joins Brinker Simpson as a part-time Manager, focusing on growing the firm's municipal outsourced accounting services. Her primary role will be supervising the day-to-day activities and tasks of the Accounting and Advisory team. Collaborating with clients, Laura will help to provide solutions to strengthen critical accounting operations, including timely month-end close and financial reporting.
Before joining, Laura worked as an accountant with a local firm in the Philadelphia region. In this role, she independently planned and performed financial audit procedures for client engagements and compliance audit procedures following requirements for government accounting. Laura was also responsible for evaluating the results of audit procedures and preparing correspondence to client management. She brings extensive experience in accounting and auditing of governmental agencies, not-for-profit organizations, and employee benefit plans.
"Our greatest differentiator is our employees' collective talent. Local government, public sector, and municipal entities look to us for regulatory compliance, internal controls, and process improvement solutions," said Managing Partner Bob Simpson, CPA, MST. "Expanding our staff with talented individuals like Laura will further strengthen our value to every client and organization we partner with."
Laura received a Bachelor of Science with Special Attainments in Commerce degree in Business Administration and Accounting, cum laude, from Washington and Lee University in Lexington, VA. She was also a Scholar-Athlete and named to the Dean's List. Laura and her family reside in Springfield, Delaware County, and she is an active volunteer at St. Pius X Parish and School in Broomall.