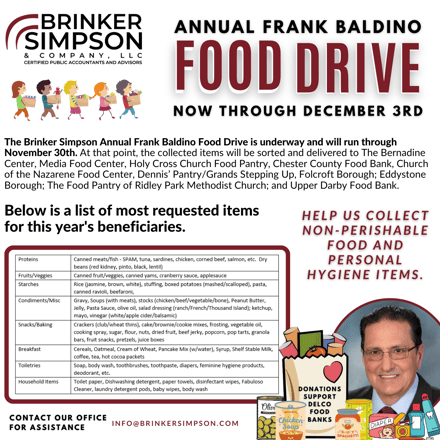 The Brinker Simpson Annual Frank Baldino Food Drive is underway and will go through November 30th.
At that point, the collected items will be sorted and delivered to The Bernadine Center, Media Food Center, Holy Cross Church Food Pantry, Chester County Food Bank, Church of the Nazarene Food Center, Dennis' Pantry/Grands Stepping Up, Folcroft Borough; Eddystone Borough; The Food Pantry of Ridley Park Methodist Church; and Upper Darby Food Bank.
Anyone interested in contributing to our cause, please drop off your donation during regular business hours at 1400 N Providence Road, Rosetree Building 2, Suite 2000E, Media, PA 19063.
Thanks again for your generosity and support!