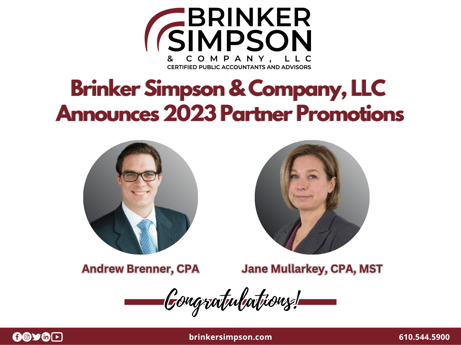 Brinker Simpson & Company, LLC, Delaware County's largest locally owned, full-service public accounting firm, is proud to announce the internal promotion of two new partners: Andrew Brenner, CPA, and Jane Mullarkey, CPA, MST.

Andrew Brenner, CPA: Andrew Brenner brings over 20 years of experience in public accounting and private industry. Before re-joining the firm where he initiated his career, he worked with an international accounting and business advisory firm. There, he specialized in tax compliance for multi-state pass-through entities and high-net-worth individuals. Andrew also served as an Assistant Controller for a regional engineering company in the Greater Philadelphia Area, overseeing responsibilities such as GAAP compliance, internal controls, banking, budgeting, and variance analysis. As a trusted advisor to his clients, Andrew provides expert tax and business advisory services to a diverse range of privately held businesses. His areas of specialization include business tax needs, estate, trust and gift tax returns, and individual income tax returns. As Director of Tax Strategies and Planning, Andrew leads the firm's tax department, guiding tax strategy, business and tax planning, tax audits, and tax accounting.

Jane Mullarkey, CPA, MST: With over 25 years of public accounting experience, Jane Mullarkey is a seasoned professional known for her excellence in the field. During her time with the firm, Jane has excelled in providing tax compliance services for various entities, including flow-through entities, individuals, trusts, and estates. Her extensive industry knowledge covers real estate, family businesses, closely-held enterprises, and high-net-worth individuals. Jane's primary focus at Brinker Simpson centers on tax compliance and effective notice resolution. Before joining the firm, she held managerial roles at large regional and national accounting firms.

"Both Andrew and Jane have demonstrated unwavering dedication and commitment to the firm's standard of excellence," said Managing Partner Michael Simpson, CPA, CVA. "In their careers, they have established themselves as notable leaders within their respective fields. We are delighted to congratulate them on reaching this impressive milestone, and we look forward to their continued professional growth and future accomplishments."

Over the decades, Brinker Simpson has cultivated a thriving community of professionals who are quick to learn and happy to teach. With an environment devoted to balance, we pride ourselves on enjoying what we do, striving for excellence and getting the most out of life along the way.

Brinker Simpson continues to expand through organic growth and acquisitions. Our steady progression is supported by a strategic combination of promotion from within and an ongoing focus on top-tier external hires. Learn more about our employment opportunities at brinkersimpson.com/careers.