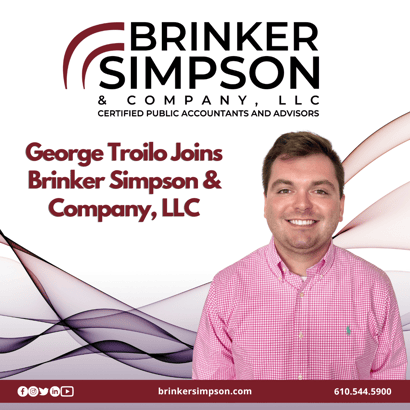 Brinker Simpson & Company, LLC, Delaware County's largest locally owned, full-service public accounting firm, is pleased to welcome George Troilo to our team of professionals. George joins the Firm as an accounting associate in the Tax department.
As a former Brinker Simpson intern, George is already familiar with the Firm and many of his teammates. In this new role, George supports the team in preparing tax returns, work papers, and financial statements.

"Our staff is the heart of our firm, and we're excited to welcome George as he begins his public accounting career," said Managing Partner Michael Simpson, CPA, CVA. "His team-oriented attitude and desire to work hard to best serve our clients make him an excellent fit for the Brinker Simpson team."

George earned his Bachelor of Science in Accounting, with a minor in white collar crime, from West Chester University in May 2023. He prides himself on being very organized, ambitious, and goal-oriented. George currently resides in Springfield, PA.