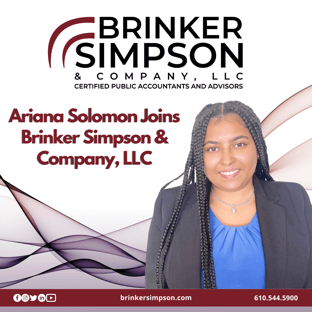 Brinker Simpson & Company, LLC, Delaware County's largest locally owned, full-service public accounting firm, is pleased to welcome Ariana Solomon to our team of professionals. Ariana joins the Firm as an accounting associate in the Tax department.
As a former Brinker Simpson intern, Ariana is already familiar with the Firm and many of her teammates. In this new role, Ariana supports the team in preparing tax returns, work papers, and financial statements. She brings valuable professional capabilities to the Firm, including exceptional research and organizational skills.

"I'd like to extend a warm welcome to Ariana as she officially joins the Brinker Simpson team full-time," said Managing Partner Michael Simpson, CPA, CVA. "As an intern, Ariana showed dedication to the profession and our clients. We're pleased she is taking this next career step with us!"

Ariana earned her Bachelor of Science in Accounting from West Chester University in June 2023. She prides herself on being a team player with a strong work ethic. Ariana currently resides in Upper Darby, PA.