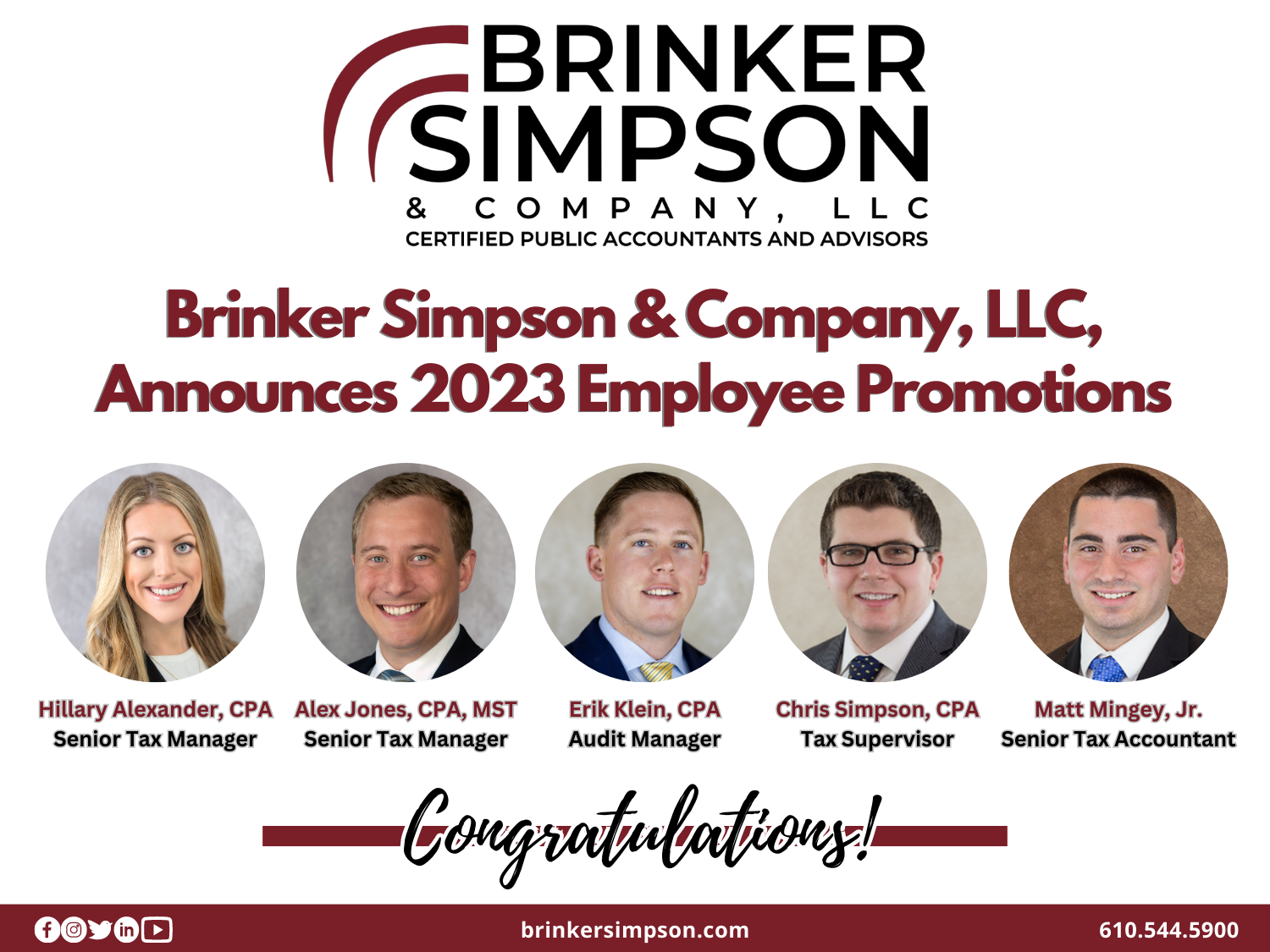 Brinker Simpson & Company, LLC, Delaware County's largest locally owned, full-service public accounting firm, recently promoted several outstanding employees.Through their commitment and tireless enthusiasm to deliver excellent service to our growing client base, each of the following individuals has earned this distinguished recognition and promotion to their new role.
Hillary Alexander, CPA – Senior Manager, Tax

Alex Jones, CPA, MST – Senior Manager, Tax

Erik Klein, CPA – Manager, Audit and Assurance

Chris Simpson, CPA – Supervisor, Tax

Matt Mingey, Jr. – Senior Accountant, Tax
"The promotion of five individuals represents our dedication to providing opportunities for our employees to advance through their careers," said managing partner Michael Simpson, CPA, CVA. "Investing in our employees and providing them with the tools they need to be successful continues to strengthen our Firm. This year's newly promoted team consists of top-notch professionals whose impact continues to be felt across the organization. I congratulate them on this next step in their career and look forward to seeing the extraordinary value they'll provide to our clients, people and community."
Over the decades, Brinker Simpson has cultivated a thriving community of professionals who are quick to learn and happy to teach. With an environment devoted to balance, we pride ourselves on enjoying what we do, striving for excellence and getting the most out of life along the way.
Brinker Simpson continues to expand through organic growth and acquisitions. Our steady progression is supported by a strategic combination of promoting from within and an ongoing focus on top-tier external hires. Learn more about our employment opportunities at brinkersimpson.com/careers.