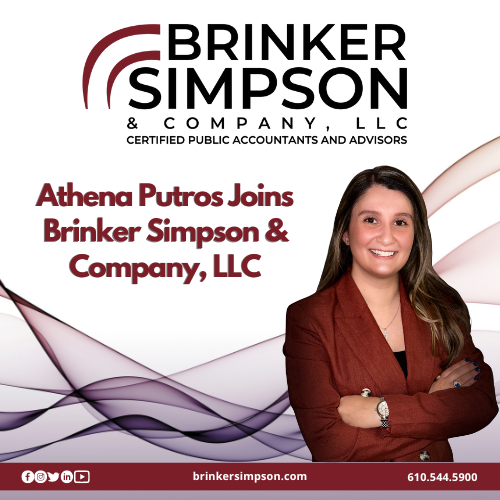 Brinker Simpson & Company, LLC, the region's largest independently owned, full-service public accounting firm, is pleased to welcome Athena Putros to our team of professionals. Athena joins the Firm as an Accounting Associate on our Client Accounting Services team.
"We pride ourselves on bringing in the top talent in the region, and Athena is no exception," said Managing Partner Michael Simpson, CPA, CVA. "Athena brings a fresh perspective and a unique blend of skills that will be invaluable as we continue to innovate and grow."
Athena received a Bachelor of Science in Accounting, cum laude, from Neumann University. She was also a member of Delta Mu Delta, the International Academic Honor Society in Business, consistently named to the Dean's List and recipient of The Presidential Award for Excellence in Accounting. Athena is currently pursuing a Master of Science degree in Forensic Accounting and plans to graduate in December 2023. She currently resides in Broomall, PA.