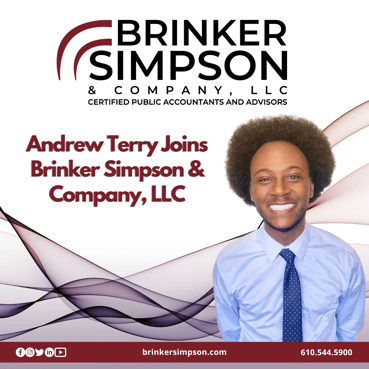 Brinker Simpson & Company, LLC, Delaware County's largest locally owned, full-service public accounting firm, is pleased to welcome Andrew Terry to our team of professionals. Andrew joins the Firm as an associate in the Audit and Assurance department.

"As the firm continues to grow, it is essential that new hires complement our team culture," said Managing Partner Michael Simpson, CPA, CVA. "Andrew's energetic personality and can-do attitude will be a major asset to our firm and our clients."

Andrew earned his Bachelor of Science in Accounting and Finance from Wilmington University in June 2023. He prides himself on being an ultimate team player, always looking to learn and willing to help where he can. Andrew currently resides in Elkton, MD.