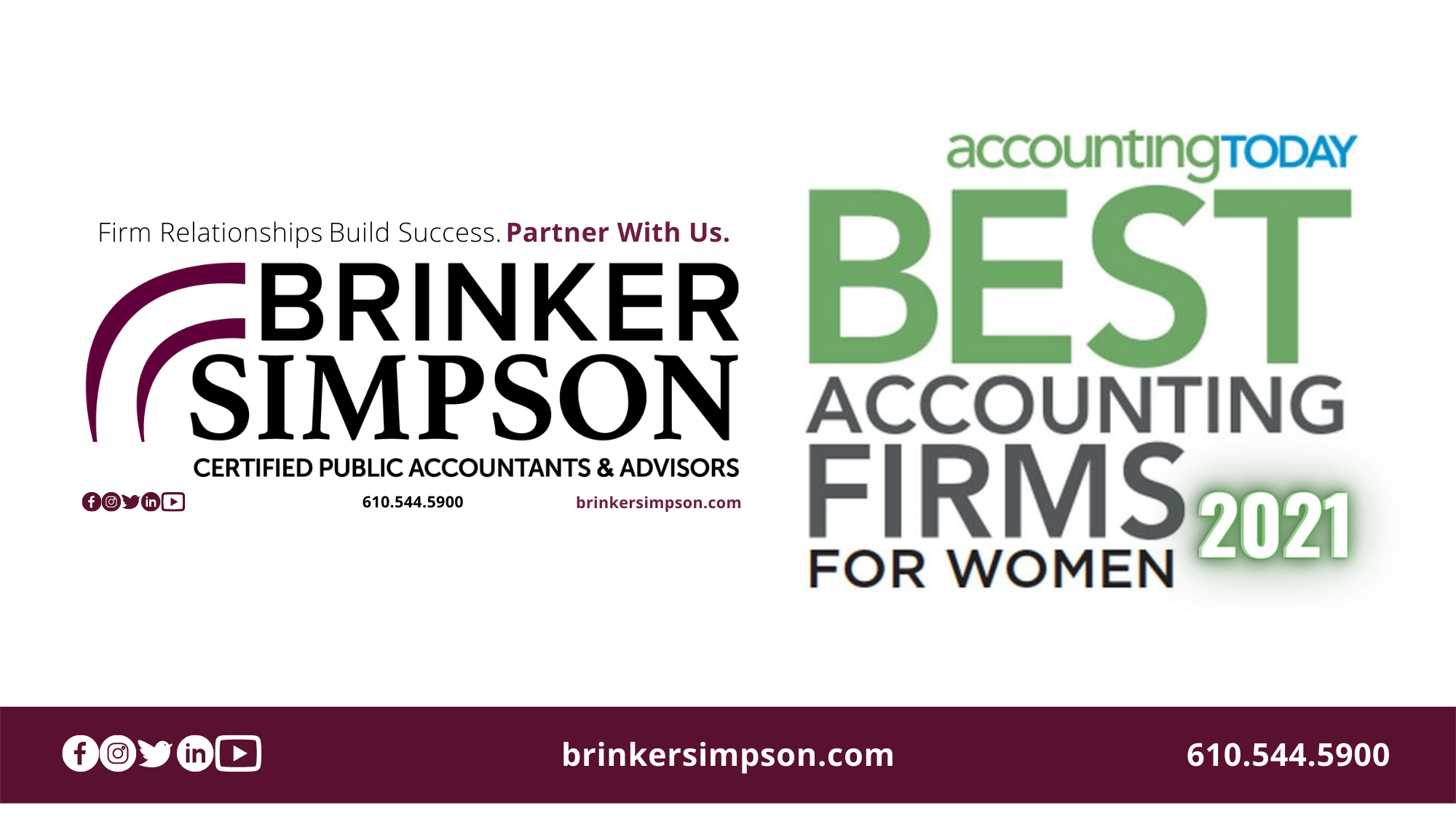 Each year, Accounting Today recognizes the 100 Best Firms to Work For in the U.S. Of those, 10 Best Firms for Women are selected based on survey responses from female staff. This designation celebrates firms that utilize best practices in recruiting, retaining, promoting, and developing women in the accounting industry.

Brinker Simpson and Company, LLC, Delaware County's largest locally owned, full-service public accounting firm, ranked alongside some of the best in the business, coming in at #2 nationwide and #1 in Pennsylvania.

This year, Accounting Today also featured several Brinker Simpson team members in an interview on how the firm helps women to succeed. Donna Stilwell, CPA, CFE, Partner; Kristen McCabe, CPA, Director of Business Development; Brianna Buchanan, Supervisor, Accounting and Advisory; Marcy DeLorenzo-Rosci, CPA, Manager, Accounting and Advisory; and Anne Mcpeake, Office Manager, participated on behalf of the firm. The full article can be found here. Click here for a print-ready PDF.

"The achievement of women within our firm has been a key to our growth and success," said Managing Partner Bob Simpson, CPA, MST. "Maintaining a diverse and inclusive environment is a core value at Brinker Simpson and critical to our culture. Having a diversity of perspectives absolutely makes us a better firm. We're honored to receive this meaningful designation."

Accounting Today's 2021 Best Accounting Firms for Women methodology included questions about demographics at different levels, schedule flexibility, paid time off and parental leaves, and the development and retention of women. This year, in light of COVID-19, several questions were added about the success of remote working arrangements.

The complete list of Accounting Today's 2021 Best Firms for Women is available here. Click here for a print-ready PDF. For more information on Accounting Today's Best Accounting Firms to Work For program, visit www.bestaccountingfirmstoworkfor.com.